---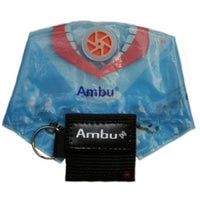 CPR masks are a must when performing CPR or rescue breathing as they help prevent transmission of harmful bacteria.
There are a number of emergency scenarios that still require rescue breathing, such as:
Victims of drowning
Victims of drug overdose
Collapse due to breathing trouble
Unresponsive infants/children
An unconscious adult that isn't breathing normally
Prolonged cardiac arrest victims
This 2" x 2" ultra-compact, easy to use CPR Res-Cue Key features a CPR face shield with a one-way valve that prevents contamination of the outer surface of the mask. The woven nylon pouch has a standard key ring hook so you can easily take it with you - on a keychain, belt, or on a lanyard.